Glass Platform Balcony
Stylish platform balcony, with enough room to sit and enjoy.
Choice of open mesh or timber flooring.
Optional privacy screens.
Designs
Available in the 'Square Post' balustrade style, or the 'Franklyn' design with round posts and handrail. See photos below.
Both designs are made from 316 marine grade stainless steel and 10mm toughened safety glass.

'Square Post' design


Franklyn design, with large privacy screen: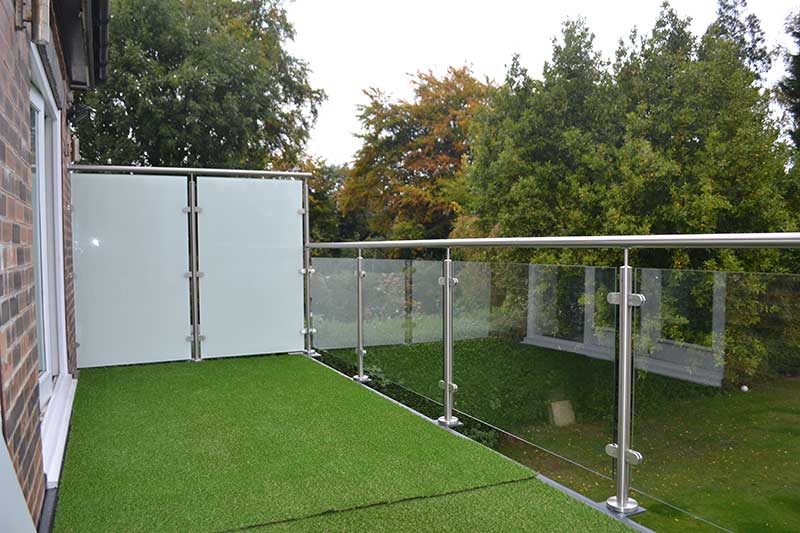 Sizes
Standard sizes are 4×2 metres, 3x2m and 3x1m, but we can supply any practical size you require.
The maximum width for each pane of glass is 3.2 metres.
Flooring
Open mesh steel is ideal if you have a window below the balcony and want to allow plenty of light through. It is also easier to keep clean and dry.

Or for the same price we can supply decking-style timber flooring.

Two of our creative customers (photos below) have used artificial grass over open mesh or decking to give a nice floor during the summer months, which makes things soft underfoot and can be rolled away and stored during the winter.

For this option we recommend buying artificial grass in a 4m wide roll, so you do not have any join showing.
Privacy Screens
If you need some privacy we can supply a screen made of white sandblasted glass, either for a single side or for the whole balcony. We can provide a screen to whatever height you require.
Build and delivery
Allow 2 weeks for the build and delivery of your balcony. We will discuss this when you order.
Designed for easy installation.
Delivered to your door with everything included, delivered ready to fit.
Pricing
Delivery charge is £40 per order, not per balcony, so if you order two or more balconies you will only be charged once.
Clear glass is standard, or sand-blasted frosted/opaque privacy glass option is available for an additional £25 per metre.
Unlike most of our competitors, there are no other charges. All prices include flooring, all fittings and VAT. All major cards accepted – no extra charge for credit card payments.
The pricing tool below has an example range of balcony sizes, but we can supply any size you require.
Call 0161 241 9872 to order or get a quote – open until 7pm, monday to saturday.
Fitting and Installation
Our balconies come with all parts, fittings and fixings. Designed for easy installation by a builder or experienced DIYer.

We suggest using a scissor lift to hoist the balcony into position.

The balconies can be fixed into brick, stone, paving or any similar material that will hold weight. We can supply your balcony in any size, so that the fixing centres are located appropriately for your requirements.
Fitting of a 'balustrade' design walk-on glass walk-on balcony in Norfolk, September 2016:

The fitting of a Franklyn balustrade design glass walk-on balcony, with privacy screens:

Example of a 'balustrade' design walk-on balcony, March 2016

Call 0161 241 9872 to order or get a quote – open until 7pm, monday to saturday.

Your quality guarantee
If for any reason you are not completely satisfied with the service we provide, simply return the unused goods to us within 2 weeks for an immediate replacement or refund. All glass balustrades are made from 316 marine grade stainless steel to prevent corrosion. Included are stainless steel fixings, touch-up paint and plastic bolt covers to achieve a professional finish.