Custom build platform balconies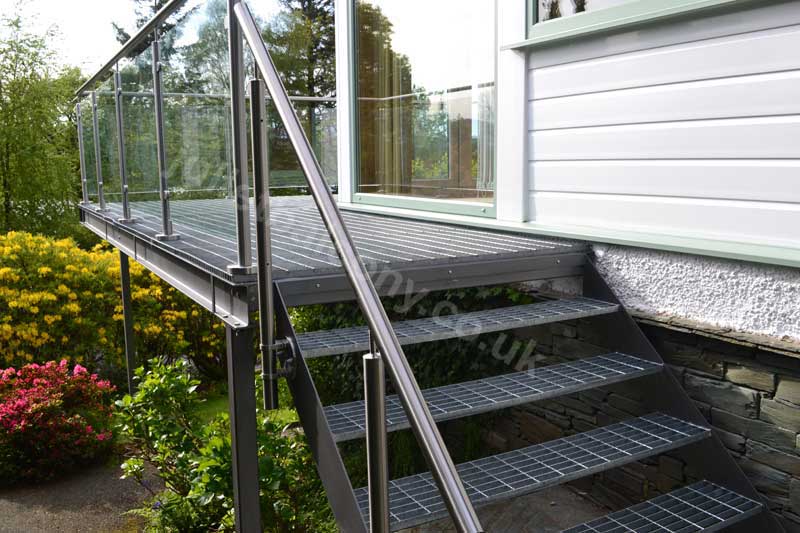 If you need a platform balcony for a special project or to a specific design, give us a call.
We can build any feasible design in steel, or steel & glass, and have done so for many happy customers.
Such as this balcony, based on our Franklyn design, which was a bespoke build to replace an existing balcony on a house overlooking Lake Windermere.
This special build also included the balcony stairs and flooring base, and we did the installation.

The old balcony had wooden flooring that had become unsafe. As you can see below it was supported by large cantilevers.

The new balcony begins life in our workshop floor and is erected on site. With the open mesh decking, the area under the balcony now gets a great deal more sunlight.

The balcony is completed with 10mm toughened clear glass panels set in 50mm tubular 316 marine grade stainless steel posts. You can see that the cantilevers are replaced by 4 inch posts to give it a 'floating' appearance.
Most importantly, the customer was happy.
Steve and the team at C&R have delivered exactly what they said, from giving initial design suggestions, through to manufacture, fitting and to after sales service and on budget. We are delighted and look forward to years of enjoyment on our balcony. I have no hesitation in recommending them.
Call 0161 241 9872 to order or get a quote – open until 7pm, monday to saturday.

Your quality guarantee
If for any reason you are not completely satisfied with the service we provide, simply return the unused goods to us within 2 weeks for an immediate replacement or refund. All glass balustrades are made from 316 marine grade stainless steel to prevent corrosion. Included are stainless steel fixings, touch-up paint and plastic bolt covers to achieve a professional finish.