Mirage design glass balcony
'Mirage' Glass Balcony Design, from £370 inc VAT
Delivered to your door ready to be fitted.

Specifications
It is made from 10mm toughened glass, with 40 x 40mm box section galvanised steel and stainless steel clamps.
Glass and Colour options
Clear glass is standard, or sand-blasted frosted/opaque privacy glass option (as in the photo below) is available for an additional £25 per metre.
Standard colours are anthracite grey, graphite silver, white or black. Or any colour of your choice for an extra £25 per balcony. Powder coating option £40 per balcony.
Sizes
We can supply the exact size you require (see this case study of a 6.3m mirage balcony).
The maximum size for each pane of glass is 2.4 metres, for wider balconies there is a small air gap between each pane of glass – no posts are needed. We don't know of any other suppliers providing glass balconies in sizes as large as we offer.
As a guideline, add 300mm to the width of the window or opening. If you have questions about the correct size then we will help you when taking your order.
Platform Option
The Mirage is also available as a small platform balcony, ideal for plants. Pricing is according to the width of the balcony and depth of the platform, starting at £450.
Build and delivery
Allow up to 2 weeks for build and delivery.
Designed for easy fitting by a builder or experienced DIYer.
Delivery charge is calculated on the largest size of balcony you order. Delivery is charged per order, not per balcony, so if you order two or more balconies you will only be charged for the largest one. Delivery charges to anywhere in the UK mainland are £40 under 1500mm width, £60 from 1500mm to 2800mm width, or £100 above 2800mm width (balconies this size we deliver ourselves). If you require delivery outside of the UK mainland please call us for a price.
Mirage Pricing
Pricing is £0.37 per mm up to 2160mm, and £0.45 per mm for larger sizes.
Sand-blasted frosted/opaque privacy glass is available for an additional £25 per metre.
Unlike most of our competitors, there are no other charges. All prices include VAT, fixtures and fittings, bolt covers, touch up paint, etc. All major cards accepted – no extra charge for credit card payments.
The pricing tool below has an example range of balcony sizes, but we can supply any specific size you require.
Call 0161 241 9872 / 0792 935 8157 to order or get a quote – open until 7pm, monday to saturday.

Your quality guarantee
If for any reason you are not completely satisfied with the service we provide, simply return the unused goods to us within 2 weeks for an immediate replacement or refund. All balconies are hot-dip galvanised (to BS729) to prevent corrosion. Included are stainless steel fixings, touch-up paint and plastic bolt covers to achieve a professional finish.
Customer Photos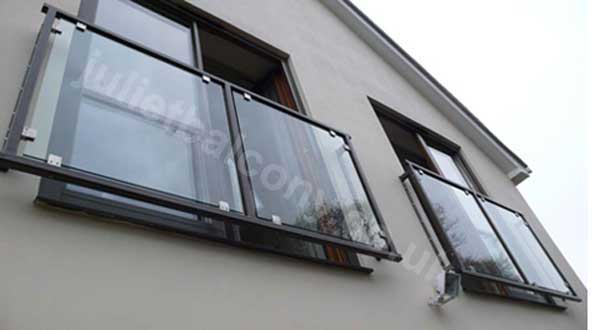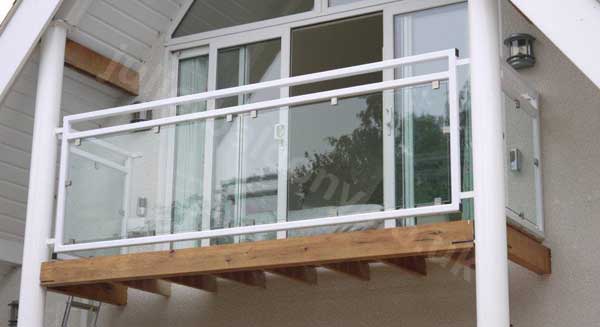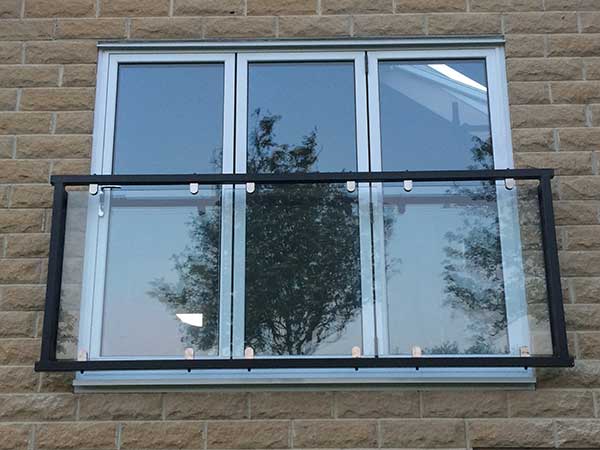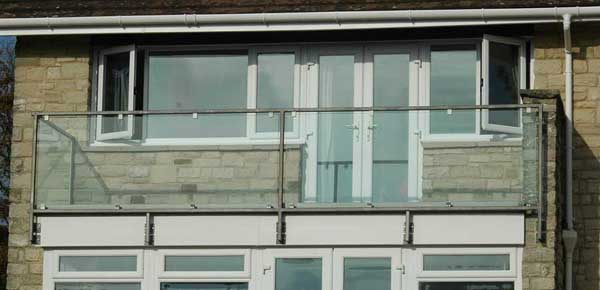 OTHER GLASS BALCONY DESIGNS
Franklyn Design - from £470

Stylish glass balcony without side braces.

Up to 4 metres wide.

Build & delivery in as little as 2 days!
Glass Balustrades
The Franklyn design glass balcony is also available as a Glass Balustrade. It is 1000mm high and any length can be made to order – the maximum width for each pane of glass is 2400mm.
Also see our Square Post Glass Balustrade system, 1100mm high and with optional opening glass door.
Call 0161 241 9872 / 0792 935 8157 to order or get a quote – open 9am to 7pm, monday to saturday.